About Wynnstay Lake
For many centuries the Williams-Wynn family were major land owners in North and mid Wales and the family seat was at Wynnstay, Ruabon. The existing hall gardens are grade one listed and were designed by Capability Brown, the present lake and stone boathouse were designed by Richard Woods, approx. 230 years ago.
The present, 10 acre, Wynnstay lake was formed from a previous canal and was dug out by hand and lined with local Ruabon clay. Initially it had two islands, but after a dredging operation in the 1960s, was reduced to one. Although it was designed as an ornamental lake, the fish stocks would have played an important part of estate life 200 years ago. Supplying an essential food source, especially on Fridays.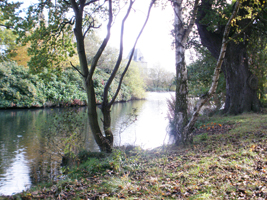 The present day still holds a strong link with the lake and fishing, albeit no longer as a food source. But specialising in large carp for experienced anglers. The average depth of six feet and the clay lining ensures an abundance of warm water throughout the summer, providing a perfect environment to grow large fish, quickly.
The lake and surrounding woodland was acquired in spring 2007, by Wynnstay fishing and conservation ltd. But it remained closed to anglers for two years whilst works to the banks, the 'Grand Avenue', and many of the older trees, were carried out. In order to achieve the company's' mission, "to create one of the finest carp fisheries in the UK".
Additional stocking of common, mirror and leather carp, to compliment existing older stocks, enabled a re-opening in the spring 2009. And was an immediate success.
Some excellent catches were recorded during the season. Notably many high 20s (lbs.) and plenty of 30s (lbs.) The largest being a 37lb 4oz grass carp. N.B. for anglers that like some variety, there are some older Bream (8lbs – 12lbs) and excellent Tench (5lbs – 9lbs).
2010 – additional carp were introduced in March, and further quality fish were caught throughout the season – check out the home page for photos.
2011 – a shortage of water throughout the UK but levels at Wynnstay were only reduced by 10″/12″ – however, weed in the lake made a strong show and some algae 'blooms' appeared. Despite this, there were many excellent catches and winter losses were zero. Eleven new additions to the lake were made: five Commons, two Mirrors and one Leather (ave. 25lbs) plus three rare Albino Grass Carp (12, 13 and 16lbs).
The lake is for experienced anglers as there are plenty of natural food sources for the fish to choose from.